Wednesday, January 30th, 2008
(OK, that's one of my four lies for today.)
On lying and its uses: Rudy, McCain, Bush, and your average guy.
After Giuliani's thankfully dismal showing in Florida, the rush to spout fibs found Giuliani and McCain vying for who could tell the biggest whopper. First Giuliani suggested that he had failed in Florida because his opponents had built up too much momentum in earlier primaries, whereas, in fact, Giuliani spent a lot of money and time in New Hampshire before retreating from that state. McCain countered with the gracious and fallacious compliment that Giuliani had "invested his heart and soul" in the race, which of course was exactly what Giuliani hadn't done, otherwise he would have performed much better. McCain followed this up swiftly with an upper-cut of an untruth declaring that Giuliani had "conducted himself with all the qualities of the exceptional American leader he truly is." Giuliani tried to recover with a transparent falsehood of his own; that he had run "a campaign of ideas." But McCain, again, clearly had him beat.
On a less happy and more serious note, the editorial board of the NY Times brings our attention to the latest lies from George W. Bush. If you're going to tell lies, I suppose that delivering them in a state of the union address endows them with a deep and lasting sense of moment and history. The Bush legacy will be in large part one of mass deception – about weapons of mass destruction, the illegal activities of the government and its agencies, and the intent and actions of Bush himself. As The Times points out, Bush's reconciliatory rhetoric conflicts with his deeds, yet again, as he refuses to respect certain new legal provisions that would increase oversight of military contractors, their actions, and the acts of government agencies by asserting in his signing statement that these provisions step on his constitutional powers.
Bush is an inveterate and habitual liar. One can presume, by studying his behavior and his words, that he feels no remorse about his lies and that he believes the ends justify the means.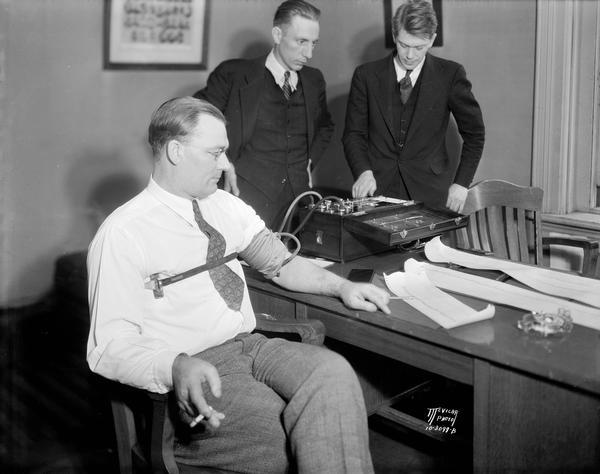 Which brings me to a recent study that finds that people admit to telling about four untruths per day and that two-thirds of those polled don't feel guilty about lying. Now, statistics can be misleading, but in this case, as one commentor wryly observed, asking people to admit to how many lies they tell will probably result in under-reporting rather than over-reporting. (Another study lends support to this theory by finding that people underreport the number of their sexual partners unless they're told that they're hooked up to a lie-detector.)
The actual numbers concern me less than the philosophy of lying.
We lie, it seems, to avoid unwanted repercussions, to sway the course of events by untruth. This applies to the fib "no, you don't sound bitter" as well as to the deception of a nation so that you can fill your cronies' coffers. 
Essayist Harold Nicolson defined a person who tells the truth as 'someone who, when they tell a lie, is careful not to forget they have done so, and who takes infinite precautions to prevent being found out.' This is humorous, of course, but hints at the "humanness" of lying. Surely very few people habitually tell the truth, and those that do would be considered odd and unnecessarily blunt. One generally likes to be lied to if one looks lousy or has made a fool of onesself, for instance.
Is this a distinction that helps us? Lies are OK if the person wants to be lied to.
And what about lies that avoid unreasonable conflict? If we know that someone will react unreasonably to the truth, does that justify a lie?
It seems that we get much more worked up about the lies people tell to get away with something, to avoid being held accountable for their actions, unless the accountability is unreasonable or irrational. (We like the idea of Robin Hood. And we support the concept of the resistance fighter who lies to the oppressing power.)
The intent of the lie and the legitimacy of the repercussions of the truth then seems to be far more important, rationally speaking, than the act of lying itself.
Which brings us to the concept of honesty. When we speak of honesty as a virtue, we are really speaking of the bravery that comes with telling a difficult truth, of risking the consequences. What seems to be lacking in politics today is the bravery to tell difficult truths. One by one the candidates shift positions in order to sound more appealing to the voters, or to cast shadow on an opponent. McCain has done it, Romney has done it, Clinton has done it, Obama has been accused of doing it (did he snub Hillary Clinton deliberately or unintentionally before the state of the union address?)
And I wonder if we were to be served up an honest politician, would we elect them, truth and all, or would we prefer to be lied to?
  (more…)