Wednesday, July 23rd, 2008
Billionaires stubbing out smoking, brains logging on to solve problems, and mirrors as healing devices.
"I bid him look into the lives of men as though into a mirror, and from others to take an example for himself."
- Terence
Roman comic dramatist (185 BC - 159 BC)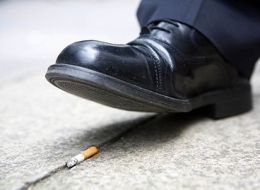 Businessman, philanthropist, and NYC Mayor Michael Bloomberg has been joined by Bill and Melinda Gates in his $500M anti-smoking campaign fund. This may not seem like a whole lot of money when compared to the billions that cigarette companies make selling cigarettes around the world, but it dwarfs the WHO estimate of $20M per year currently being spent to combat smoking in low to middle income countries. The fund is expected to save hundreds of millions of lives over the next couple of generations. Yet another reason to shake our heads over the spending priorities of our elected administration (such as the decision to airlift $12B cash into Iraq without keeping track of where it all went…)
Not yet a potential target of big tobacco, my four-year old son fortunately wouldn't know the Marlboro man if he rode in on his horse. One of my son's favorite shows of the moment is Noggin's Pinky Dinky Doo (parents take note — no ads on Noggin!!) Pinky, the show's heroine, engages her little brother, Tyler, with stories related to a problem he's encountering. At some point in every story, Pinky's fictional self "thinks big" in order to solve a problem. Thinking big means thinking laterally, or outside the box. Very entertaining. And now I read that there's a whole network of Pinkies (not to be confused with pinkoes) who can sign up to compete to solve problems and win cash prizes. "InnoCentive," reports the Times, has "solved 250 challenges, for prizes typically in the $10,000 to $25,000 range. According to the Web site (www.innocentive.com), the achievements include a compound for skin tanning, a method of preventing snack chip breakage and a mini-extruder in brick-making." Cool.
And all of this relates to mirrors how? I'm getting there.
It's a little all over the place and fluffy, but Natalie Angiers piece on mirrors has some interesting moments. (I scurried off to research her claims about mirror images, thinking she'd got something wrong, but for the moment I have to admit she's right and I'm feeling a little chagrined.) Here are the pertinent nuggets:
1. Scientists have been "applying mirrors in medicine, to create reflected images of patients' limbs or other body parts and thus trick the brain into healing itself. Mirror therapy has been successful in treating disorders like phantom limb syndrome, chronic pain and post-stroke paralysis." Wow!
2. "Subjects … in a room with a mirror have been found to work harder, to be more helpful and to be less inclined to cheat, compared with control groups performing the same exercises in nonmirrored settings. … people in a room with a mirror were comparatively less likely to judge others based on social stereotypes about, for example, sex, race or religion. 'When people are made to be self-aware, they are likelier to stop and think about what they are doing,' Dr. Bodenhausen said. 'A byproduct of that awareness may be a shift away from acting on autopilot toward more desirable ways of behaving.' Physical self-reflection, in other words, encourages philosophical self-reflection."
So if I imagine for a moment that I'm Pinky Dinky Doo and that Mike Bloomberg is offering a prize for the person who can come up with a device that would help people quit smoking, I'd say that he should use some of the fund to distribute hand mirrors to smokers or their loved ones so that they can watch themselves puffing away day and night and hacking up gunk first thing in the morning. Just an idea.
(I would say that he should send a big old mirror to George Bush, but the researchers have also found that not all conscious animals recognize themselves in their reflection. "'Tellingly,' said Diana Reiss, a professor of psychology at Hunter College who has studied mirror self-recognition in elephants and dolphins, 'animals raised in [or preferring?] isolation do not seem to show mirror self-recognition.'")
Related posts from around the web…
Gates, Bloomberg pool riches to fight smoking - Microsoft founder Bill Gates, left, and New York Mayor Michael Bloomberg walk on stage to announce their $375 million global anti-smoking campaign at a press conference in New York, Wednesday, July 23, 2008. …
What does an elephant see when it looks in the mirror? - But on further inspection it is thought that they may realise they are seeing themselves as they will repeatedly touch a mark painted on their heads which they wouldn't be able to see if it were not for the mirror. … (more…)