Friday, February 29th, 2008
On the function and power of creativity, and the particular value of music as an artistic medium.
Art Schop is a name I've been recording under for material that's more spontaneous, philosophical and odd. This is the second year I've entered the RPM Challenge to record an album in the month of February. With a whole bunch going on this year and my wife pregnant (and therefore needing sleep when I wanted to record) I thought I wasn't going to make it. But today, with her encouragement, I knuckled down and hid myself away and finished up. (This entailed writing or editing lyrics for several songs, recording vocals for nine of ten songs, and mixing all ten.)
Creativity is a funny thing. When you least expect it, something lovely happens. I wasn't thrilled by much of what I had to work with this morning when I started, fragments of lyrics isolated from the music, and with the pressure of time thought that I'd perhaps get my album done, not much more. But in the course of a few short hours some beautiful moments (or so I hope) found their way out of my subconscious.
Heath Ledger and Michelle Williams had a house a couple of miles from where I live in Brooklyn. I saw Heath around a few times and our kids circled one another once at a local coffee shop. Apart from his talent and charisma, he seemed like a wonderful, warm, nice guy. I was very sad when he died. One of the songs I recorded today is in memory of Heath…
from here to there (song for Heath Ledger)
(A few of the other tunes are posted on my RPM profile.)
Where does the creative impulse originate? Why do people so love music, playing music and singing, listening to music, creating music?
When we create we translate a feeling or impression into some communicable form. Rationally then, the urge to create would seem to originate in the urge to communicate things that we feel otherwise unable to communicate fully. I could tell people I'm sorry that Heath Ledger died. But this wouldn't quite capture the essence of my sorry, a whole mix of emotion and ideas. When I listen to the song, on the other hand, it expresses my feelings much more coherently, much more warmly, without the same archness or analysis that I'd wrap around them in conversation.
Art gets us closer to a raw form of communication, where the symbols of the art represent feelings that cannot otherwise be measured and processed for someone else to apprehend. It's akin to a hug or a kiss or a touch.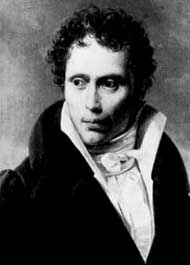 Arthur Schopenhauer wrote about existence as having two aspects — our perception of it through our senses, which is an indirect representation, and the thing itself, which he called the "will." Schopenhauer quite rightly stated that we can never directly apprehend the will. It will always and only be revealed to us through our immediate experience. For Schopenhauer, music came closer than anything else to revealing the nature of the will. Intuitively, Schopenhauer's perspective on music has great weight. Just as music flows and never "is" so existence can't ever be apprehended and stopped. Just as music follows forms and ideas, repeats patterns, so does existence.
(And we must remember that music originates from human perception via the subconscious. So any mirroring of the will in music is a mirroring of our perception of the will.)
People so enjoy art because it communicates to us on a non-verbal, emotional level; it is release and relief from our insularity of experience. And music has a particularly powerful aspect — it is immediate and transient, it flows. It cannot be frozen and held up to the eye. It forces us to submit to immediate, unstudied perception.
For more rational, science-based explanations of life's meaning and purpose, please refer to my book: LIFE! Why We Exist… And What We Must Do To Survive
. (more…)